I have known Lynette for over 10 years. She is a person of integrity. What differentiates LOA from the others is they "specialize in serving financial services organizations." They understand our business and how important my top sales people are to the organization. They also have personal relationships with the "right people" in the hotel business and have maintained these relationships over the years. Few firms can say that today!"

-W. Kenny Massey, President
Modern Woodmen of America

LYNETTE OWENS & ASSOCIATES is an independent incentive and meeting management/marketing firm specializing in the Life Insurance and Financial Services incentive industry. LO&A has been assisting our clients with their travel incentive programs for over 30 years, providing knowledge, experience and dedication necessary to plan and operate memorable incentive travel programs worldwide. We can also provide marketing and sales support services in the Insurance segment for a select group of premier hotels and resorts throughout the world. The firm also serves as Executive Director for the National Insurance Marketing Association - NIME.

Our team has extensive experience both on the hotel side of the industry as well as the Insurance side of Incentives and Meetings. Our personalized assistance and attention to detail are readily apparent as we provide our clients with research, coordination and regotiation. At LOA our goal is to assist our clients with their incentive and meeting needs and utilize our tremendous resources with the hotel industry to create a memorable experience.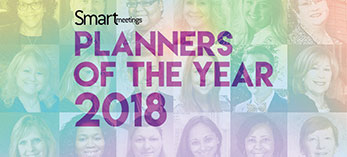 Lynette Owens & Associates, LLC HAS over 30 years of hotel experience and conference planning. We are committed to providing experienced meeting planning personnel, unparalleled levels of customer service and an unsurpassed meeting value that fits within a budget. To accomplish this, LOA provides full service conference and incentive site selection & cost analysis based on your criteria and objectives, contract negotiation, coordination and on site staffing. Lynette Owens & Associates, LLC works as an extension of YOUR in- house team or executives.
ICMG Award 2020 Long Term Exhibitor Award. 2nd year in a row.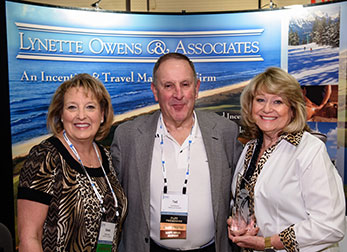 Debbie Grassi, V.P. Sales Ted Williams, Past President. ICMG, Lynette Owens


We offer a three tier approach to our services:
SILVER
Complimentary services provided:

Hotel/Resort site selection
Contract negotiation, i.e., hotel, golf, dmc, AV & activities
Speakers/Entertainment suggestions
Arrange & escort site visits

All items listed above are provided at no cost to you!
GOLD
Pre Program Coordination

Once your contract is negotiated and signed, you can take this to the next level of service for a coordination and management fee based on services needed.

Create a detailed agenda between you and hotel/resort
Follow-up on cut off dates and attrition clauses
Select all function space and provide suggested menu selections
Recommendation of themes, décor, entertainment or speakers
Assist with signage, logo, and collateral
Monitor manifests, airline, hotel rooming lists, etc.
Recommend merchandise and room gifts
PLATINUM
All silver and gold services will be provided in addition to complete on site coordination and management of entire program, including post meeting review and budget recap. All of the above will be priced on a per attendee basis.
Vice President, Sales
Debbie Grassi
P.O. Box 33459
Indialantic, FL 329037
Phone (760) 420-1981
Fax (760) 632-9275
Email: Debbie@lynetteowens.com

Eastern Regional Sales Office
Christiane 'Chris' Bostick
Director of Sales, East Coast
7812 Pointview Circle
Orlando, FL 32836
Phone (407) 325-3069
Fax (407) 363-7552
Email: Chris@lynetteowens.com

Byrne M. Owens, IV
National Sales Manager
1506 1/2 S. Sherbourne Dr.
Los Angeles, CA 90035
Phone (858) 735-1248
Fax (858) 759-9194
Email: Byrne@lynetteowens.com